AKC Ch. Mockingbird's Alleluia
Allie is the full litter sister with Simon (Laurelwind Mockingbird Irish Blessing) and Gracie.  I co-own Allie with Susan Glisson, Mockingbird Cavaliers.  She has lived with me most of her life, and we were so glad to get her home again! Now that she's retired, she can move on to motherhood!!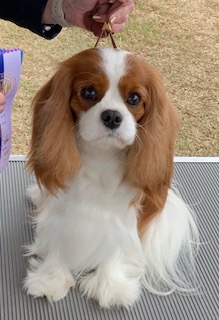 AKC Ch. LaurelWind Rumor Has It
How time flies!  This is my beloved LaurelWind Rumor Has It as a puppy.....she is just my heart dog!  She's four years old now, and had a very short and successful show career - I think it took three weeks for her to gain her Championship.  Basically the blink of an eye!  She's a beautiful tri girl out of CA Cambridge Double Your Money, bred by Elaine Mitchell and owned by Lana Adair.  What a gorgeous dog he is!  And Rumor is no exception - she's a carbon copy.  After her championship, she came home to relax on the couch and I'm not sure she's moved since.  Enjoy Rumor's photos!

AKC Grand Ch. LaurelWind Just My Imagination
LaurelWind Just My Imagination ("Zoe") is our fourth generation of show dogs, and what a special one she is.  She finished her championship in 2 weekends, and her Grand Championship in two more weekends.  It was actually crazy how fast it all went!  She was lovingly handled by Michelle Jones, who is simply the best, and awarded many of her points through specialties, which is a special honor.  Many thanks to the breeder-judges and all-breed judges who honored our baby girl.  Zoe is now retired at home, and relaxing on the sofa!
Middlemarsh Loves Me Loves Me Not
We were entrusted with this lovely little girl from Melly Troia.  The sweetest little girl ever!  She is one of our hopefuls for 2021...once the dog show world resumes a full schedule.  We are looking forward to a great show career with Daisy!!
Laurelwind Full of Grace
Grace is our lovely homebred girl out of Valentyne The Irish Tenor, a spectacularly beautiful dog.  
Laurelwind She's Got The Look
Mockingbird Pitch Perfect